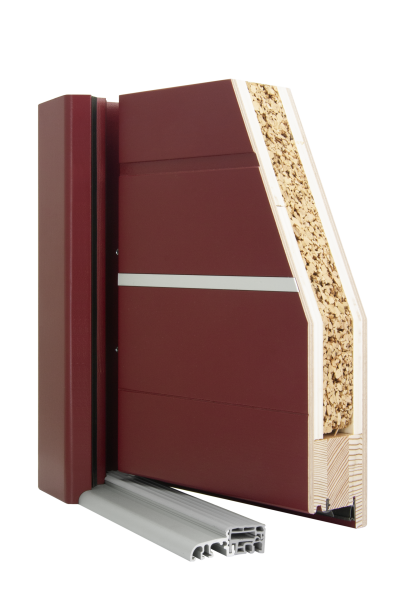 Trend
FRAME AND DOOR:
68x80 frame section and 68 mm door: door made with a single high quality certified insulated panel which, thanks to its particular structure and the use of multilayer panels, guarantees excellent stability and durability over time. Inside a layer of compressed natural cork, very high performance, ensures excellent thermal insulation, a substantial noise reduction and at the same time lightness of the finished product. An aluminum sheet gives further stability, avoiding any distortion in the presence of sudden changes in temperature.

CONSTRUCTION OF GLASS LIGHTS:
It is possible to create in the lighting panel of the most different shapes. It is possible to realize: through holes with double glazing fixed with double glazing bead (inside and outside) and holes with glass stop and glass stop only on the inside. This solution is however recommended only for lacquered or opaque finishes.

MILLING:
It is possible to realize surface milling on the panel according to the customer's drawing and taste.

GLASS:
Section 68: 28 mm double glazing. To ensure greater thermal insulation and greater safety, we apply a laminated glass internal / external b and with argon tested in P2A class according to EN356 for protection against vandalism and burglary. Satinised, printed and decorated glasses available on request.

SEAL:
Triple.
Available in various models CUSTOMIZED ON DRAWING.